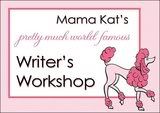 Dear Mommy and Daddy...
I don't feel so well. I have a cold and the snot keeps dripping. I "spit up" like sissy does and it scared me some. You told me it's called "vomit" but all I know is I don't like it and I hope I am back to feeling better soon.
Mommy, I know you have a lot of things to do so thank you for getting up with me about 400 times last night. It made me feel better knowing you cared, even if you were absolutely exhausted. Thank you for holding my hand as I leaned my head over the potty. Thank you for rubbing my head and scratching my back to help me fall back asleep. Thank you for reassuring me that everything will be okay.
Daddy, I know you also have a lot of things to do today. You are my hero daddy. I'm sorry I puked all over you last night. Thank you for not making me feel bad about it and for helping me out by cleaning me up and showing me where the "spit up"...err..."vomit" goes. Daddy, I love you so much and I'm so glad you make me feel safe and secure and work hard for us.
I woke up feeling better this morning, full of energy, but didn't feel like eating. I hope I am getting better. Sissy seems better, hers only lasted about a day and a half. That means it isn't too much longer for me!
By the way Mommy...I know you had a different letter planned for the Writer's Workshop but I think this one is more fitting just because you didn't get any sleep last night! Hope your readers understand!
Love,
Munchkin