I have been given awards lately that I have not even mentioned on my blog. I have been busy posting assignments and such and today I REALLY need to mention them! PLUS - I REALLY REALLY appreciated the thoughtfulness and I can't go a minute more without thanking everyone that thought of me! :)
So here goes...
First...a long time ago...October 16th to be exact,
Mimi
bestowed the following award on me...
Also, today, as I was blog
stalking
reading, I found that
Jori
also thought I should get the award! How awesome is that! :)
Here is what the blog award means:
"This blog invests and believes, in 'proximity' [meaning, that blogging makes us 'close' - being close through proxy] "They are all charming blogs, and the majority of them aim to show the marvels of friendship; there are persons who are not interested when we give them a prize, and then they help to cut these bows; do we want that they are cut, or that they propagate?"Then let's try to give more attention to them! So with this prize we must deliver it to eight bloggers that in turn must make the same thing and put this text."
So my understanding is that this award goes to people who are charming, unselfish, and I want to give them more attention.
So I want to pass this award along to some wonderful ladies whose blogs I have grown to love! :)
1. Saundra at
An Italian Mama
2. Trina over at
Trina's Place to Blog
3. Susan at
The Gonzalez Family
4. Kimmy over at
Our Life's Journey
; and
5. Serenity over at
Russell Party of Five
Now the next award comes from the wonderful blog from the Mama of Romance over at
Sex Diaries of a Mom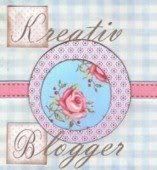 She honored me with this award back on November 18th.
This blog award has rules to it so here they are...
Here are the rules for this one:
1. Mention the blog that gave it to you and comment on their blog to let them know you've posted your award.
2. Publish these rules.
3. Share 6 values that are important to you and 6 things you do not support.
4. Grant the prize to 6 people.
Six Important Values/Beliefs:
1. Love with everything inside of you
2. Learn to forgive
3. Laugh every single day
4. Never be afraid to ask for help
5. Learn that it is okay to be vulnerable sometimes
6. Reach out a helping hand to those that need it
Six Values/Beliefs I do NOT support:
1. Telling lies
2. Abuse of any kind
3. Selfishness when someone really needs you
4. Discrimination
5. Hatred of any kind
6. Being mean to others
I'm passing the Kreative Blogger Award on to:
1. Kimmy again over at
Our Life's Journey
2. Mimi over at
Minxy Mimi Unplugged
3. Jori over at
Jeff & Me + Three
4. Darcie over at
Mommy on the Edge
5. Susan again over at
The Gonzales Family
6. And last but never least...Trina again over at
Trina's Place to Blog
I urge all of you to visit all these blogs listed and go and give them some comment love! :)